As Eco Warriors we are responsible for making suggestions on how we can support the environment within our school and local area. We have discussed and reflected on the many ways our school has a positive impact on the environment. We have also carried out an environmental review of our school in order to highlight ways we could improve.
After careful consideration we have decided to implement the following 3 targets:
Waste: We would like to become a plastic free school and encourage children to use a re-usable water bottle. We also want to recycle certain waste items appropriately including food waste.
Energy: After an increase in our school's electricity usage, we would like to reduce this by considering ways to lower the use of energy throughout the school.
School grounds: We would like to use our school grounds to promote wildlife and healthy living by creating pleasant and purposeful areas.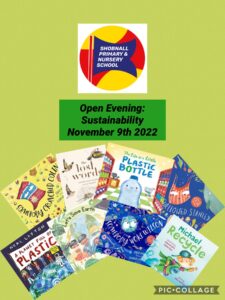 This year, 'Sustainability' was the theme for our annual open evening.  Each class chose a different book and produced an array of work to display on this theme.  Here are some pictures taken from the evening…