Subject Leader
Miss A. Martin-Mills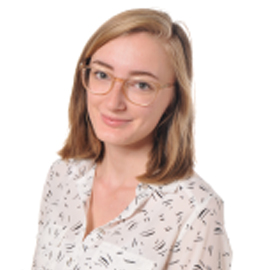 Hi, I'm Miss Martin-Mills and I am the subject leader for English at Shobnall Primary & Nursery School. Secure English skills are essential for progress across the curriculum and to prepare pupils effectively for adult life.  We have a responsibility to develop pupils' competence in reading, writing, speaking and listening in their own subjects and to ensure that pupils become competent users of language, and can access the curriculum effectively and achieve their potential.
We provide a rich, broad and balanced curriculum, which takes account of National Curriculum requirements and recognises the individual developmental needs of our children.  Furthermore, the individual experiences and cultures that the children bring to school are celebrated and key in engaging and inspiring them to become curious learners.  The environments that we provide are 'language rich', ensuring that a plethora of vocabulary is taught across all subjects.  Reading is at the core of the English Curriculum, we immerse pupils in the wonders of quality texts to create a love for reading.
Vision
At Shobnall Primary & Nursery School, our ethos and purpose is to enable children to read words accurately and understand texts. We aspire for children to write with purpose, use imaginative description, organise writing appropriately, spell correctly and punctuate accurately.
Aims and Goals
Learning is a change to long-term memory. Our aims and goals are to ensure that our students experience a wide breadth of study and have, by the end of each key stage, long-term memory of an ambitious body of procedural and semantic knowledge.
Reading
We believe children should have excellent phonic knowledge and skills.

Our children will have fluency and accuracy in reading across a wide range of contexts throughout the curriculum.

We promote knowledge of an extensive and rich vocabulary.

We encourage our children to have an excellent comprehension of texts.

We motivate our children to read for both study and for pleasure.

We encourage pupils to have an extensive knowledge through having read a rich and varied range of texts.
Writing
Our children will have the ability to write fluently and with interesting detail on a number of topics throughout the curriculum.

We encourage our children to have a vivid imagination which makes readers engage with and enjoy their writing.

We promote a highly developed vocabulary and an excellent knowledge of writing techniques to extend details or descriptions.

We believe our pupils should have well-organised and structured writing, which includes a variety of sentence structures.

We encourage excellent transcription skills that ensure writing is well presented and punctuated, spelled correctly and neat.

We motivate our children to have a love of writing and an appreciation of its educational, cultural and entertainment values.
Curriculum
The English Curriculum at Shobnall Primary & Nursery School encourages pupils to acquire the necessary knowledge, skills and understanding to become lifelong learners and excellent communicators so that they are well equipped for the next stage in their education. 
EYFS
All pupils within the EYFS are taught to develop their English skills as an integral part of the topic work covered during the academic year.  All English objectives are underpinned by the areas of learning and development that are required to shape educational programmes in early years settings.  In accordance with the Early Learning Goals outlined in the Statutory Framework for the Early Years Foundation Stage, pupils will be taught to:
Listen attentively and respond to what they hear with relevant questions, comments and actions when being read to and during whole class discussions and small group interactions;

Make comments about what they have heard and ask questions to clarify their understanding;

Hold conversation when engaged in back-and-forth exchanges with their teacher and peers;

Participate in small group, class and one-to-one discussions, offering their own ideas, using recently introduced vocabulary;

Offer explanations for why things might happen, making use of recently introduced vocabulary from stories, non-fiction, rhymes and poems when appropriate;

Express their ideas and feelings about their experiences using full sentences, including use of past, present and future tenses and making use of conjunctions, with modelling and support from their teacher;

Demonstrate understanding of what has been read to them by retelling stories and narratives using their own words and recently introduced vocabulary;

Anticipate – where appropriate – key events in stories;

Use and understand recently introduced vocabulary during discussions about stories, non-fiction, rhymes and poems and during role-play;

Say a sound for each letter in the alphabet and at least 10 digraphs;

Read words consistent with their phonic knowledge by sound-blending;

Read aloud simple sentences and books that are consistent with their phonic knowledge, including some common exception words;

Write recognisable letters, most of which are correctly formed;

Spell words by identifying sounds in them and representing the sounds with a letter or letters;

Write simple phrases and sentences that can be read by others.
KS1 and KS2
All pupils within KS1 and KS2 are taught English in line with the requirements of the English National Curriculum. 
Assessment
Formative assessment, which is carried out informally throughout the year, enables teachers to identify pupils' understanding of subjects and inform their immediate lesson planning. 
EYFS
Children aged between four and five will be assessed in accordance with the Statutory Framework for the Early Years Foundation Stage in order to identify each child's strengths and identify any areas where progress is below the expected level. 
KS1 and KS2
In terms of summative assessments, the result of any end-of-year assessments will be passed to the relevant members of staff, such as pupils' future teachers, in order to demonstrate where pupils are at a given point.  In writing, every child will complete at least one extended piece of writing each half term, which the teacher will assess using our skills ladders covering the key writing objectives.  In reading, every child will complete a National Test Style assessment every term.  There are government standardised assessments in Year 1 based on phonic knowledge and in Year 2 and 6 on reading skills.
Cross-Curricular
The English skills that are developed in English lessons are applied to and in every lesson that is conducted in accordance with the National Curriculum.  English skills make up the basis for all other future skills, some examples are as follows:
Mathematics: English skills contribute greatly.  EYFS students encounter patterns, space and shapes in English lessons.  Further on in their development, pupils will learn a new and wider vocabulary, which will include mathematic specialist terms.  Children in KS1 come across stories that involve rhymes and include counting and sequencing. 
Science: Pupils are expected to engage in research during science lessons.  English skills are used here for writing a range of reports and for verbally explaining their findings. 
History, Geography and RE: These subjects require technical and subject-specific vocabulary.  Researching is also required for these subjects, meaning that the register in which any work is written often needs to be adapted depending upon the task set.
Drama: English skills are fundamental for oral expression and will ensure a pupil feels confidence taking part in group tasks and class discussion/performance. 
Computing: Using computer software, such as Microsoft Word, develops understanding of vocabulary, sentence structure and many grammatical rules. 
Visits and Enrichment
Educational visits and visitors are a fantastic opportunity for all pupils and truly enhance the teaching and learning of English.  Enabling children to make links between their learning in class and their first hand experiences of the real-world are valuable learning opportunities. 
Where possible, we try to create opportunities for visitors to come into our setting.  KS1 children were lucky enough to have an author visit them recently, where he shared his story and allowed the children to ask a range of questions.
Pupil Voice
In order to create an inspiring curriculum relevant to the children in our care, we feel it is crucial to capture their views.
Year 2… "When I get stuck, my teacher reminds me to use my phonics."
Year 4… "We recap the text at the beginning of the session, so I remember what happened in the previous chapter!"
Year 5… "My teacher helped me to remember what I have learned by putting displays up in the classroom.  I learnt some interesting facts about the book, The Lottie Project."
Year 6… "Our teacher helps us to learn by doing a starter at the beginning of every guided reading lesson.  The last lesson we did, we had to analyse four small extracts about the book we were reading and then answered an inference question."
Documents and Useful Links
Please see our long term plan for English and approaches that relate to the intent, implementation and impact of English teaching and learning at Shobnall Primary & Nursery School. Click on the links below for useful resources too!